Final Cruise
She's Gone...
0300Z on the 10th Of August 2007
as part of Valiant Shield 2007
11:16:00N 143:53:00E
4100 fathoms of water
24,600 feet of water
4.659 miles deep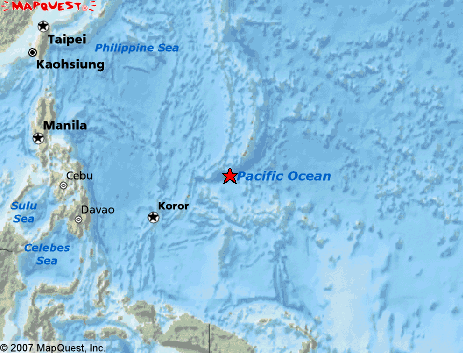 Jouett took HARM,HARPOON,MAVERICK and GBU like they were mosquitoes.
A B2 dropped two laser guided 5000lb JDAMs on her starboard side.
The explosion looked nuclear. Total screen whiteout, shockwave rolling across the water, mushroom cloud.
When the smoke started to clear, she was heeled way over to port away from the blast.
She hung there on the precipice, considering whether to turn turtle or not.
She didn't, she rolled back to even keel and settled in by the bow.
She started to lean to stbd where the water was pouring in from the JDAM hits,
when she finally lost the righting moment, she went over fast and sunk like a stone.
Master Chief Sonar Technician
C. Krokel
with Special thanks to
STGCS(SW) C. Benoit
UDATE:
August 13th 2007
Jeff Brunton here, former FC3(SW) the Jolly J, now FCCS(SW) onboard USS Stethem DDG-63.
As you well know Jouett was towed to sea for a sea target for Stennis, Kitty Hawk and Nimitz carrier strike groups.
My friend Curtis Wilbur took these photo's as she was "put to sea" for the last time.
I'll tell you she still looks pretty good. I was the on the decommissioning crew and it was pretty sad to hear about her.
Thought you might like to post these photo's. Thanks
v/r Jeff Brunton
USS STETHEM DDG-63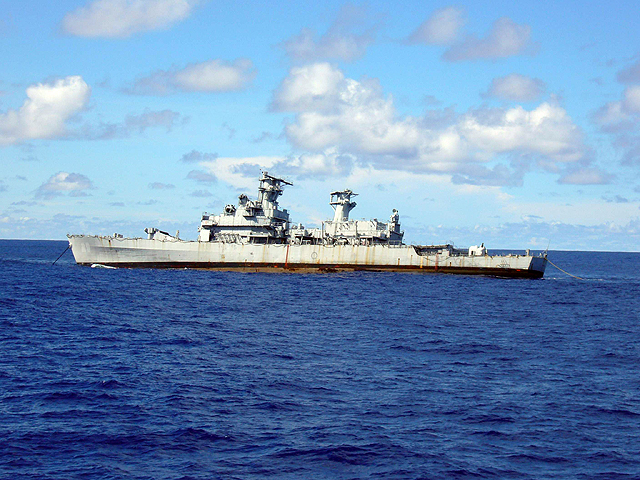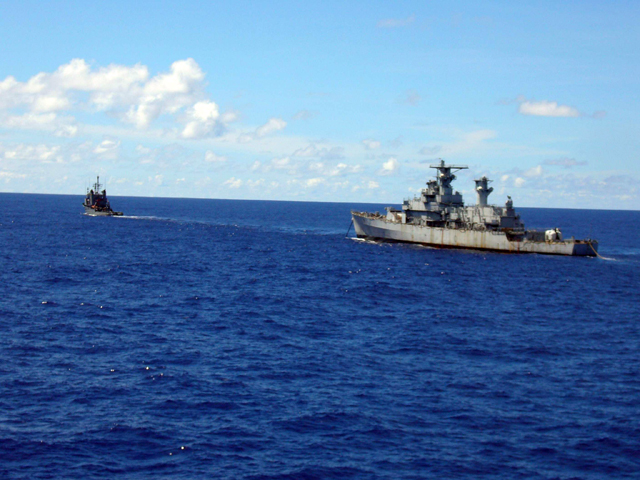 UPDATE:
July 28, 2007, 15:41:43
I have been tasked as the EOD team leader to ensure that USS JOUETT finds her final resting place.
I am currently aboard the USS KITTY HAWK. The combined airwings of the USS KITTY,
USS STENNIS and USS NIMITZ will use the ship for strike training.
I have the fortune of being the last person to stand aboard the ship before the shooting begins.
If the worlds most powerful Navy cannot sink her then my team will board her and place charges to scuttle the ship.
If you want I will take pictures of her and I can email them to you. I will also get the Lat and Long if desired.
V/r
EODCS (EWS/SW/AW) Myers
EODMU FIVE Detachment THIRTEEN LCPO
Embarked USS KITTY HAWK (CV-63)
COMPACFLTTraining/Operations,Environmental Support,Pearl Harbor,HI.
Jouett arrived, under tow, in Pearl Harbor on Feb. 13, 2007.
She was placed in the Inactive Fleet.
She will be readied for a SINKEX.
It will take about 6 months to make her ready and all work will be accomplished by 9/30/07.
She is not scheduled for a SINKEX at this time but she will be ready when needed.
January 30th,2007
Deputy Sealift Logistics Command Pacific, San Diego:

I just got word from our Military Sealift Command Master on the ocean tug USNS NAVAJO (T-ATF-169)
that he is underway from San Francisco Bay with ex-USS JOUETT in tow.
The ship is enroute to the Inactive Ships Facility in Pearl Harbor.
I thought you might like a couple of the photos as JOUETT passes under the Golden Gate for one last cruise.
Salvo regards,

Deputy SEALOGPAC
Former Combat Systems Officer - USS GRIDLEY [CG-21]
Former XO - USS ENGLAND [CG-22]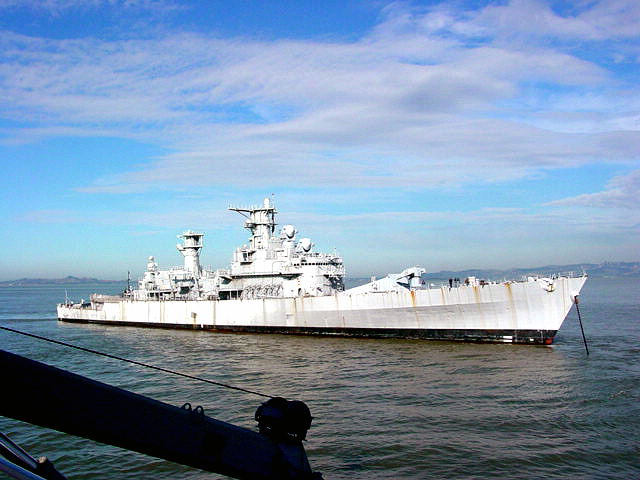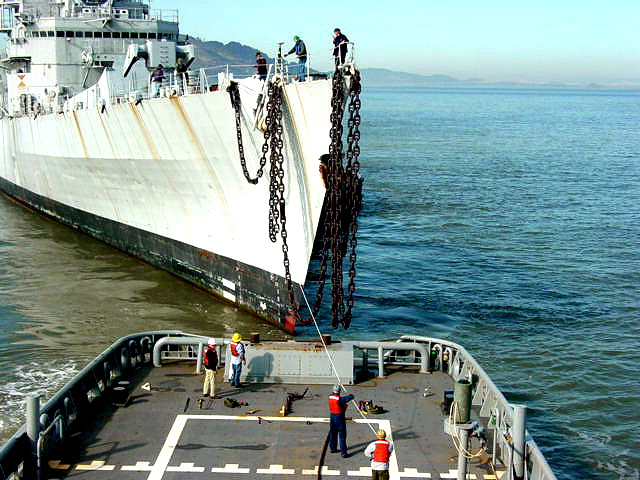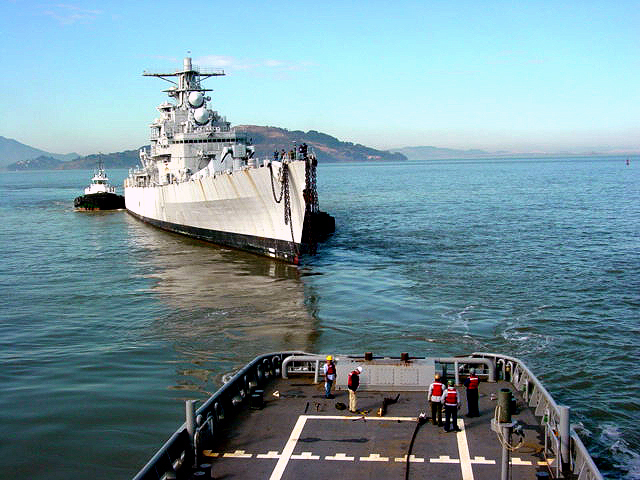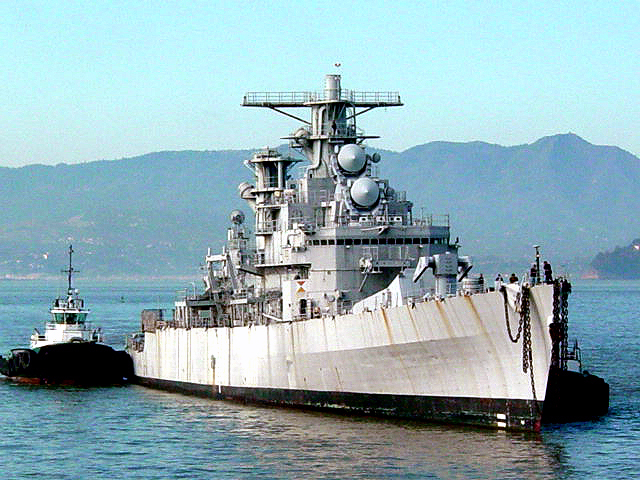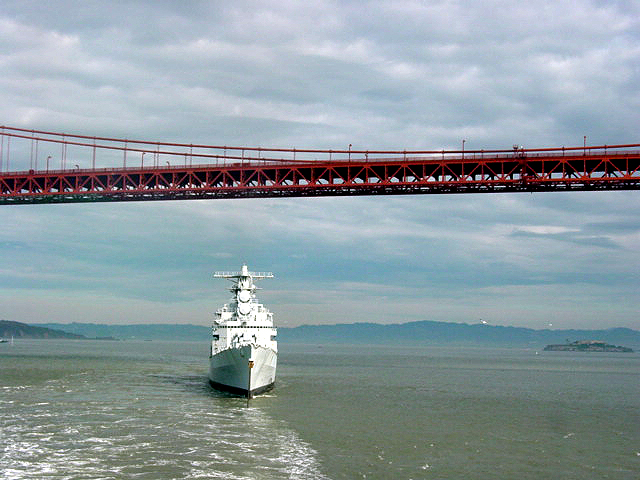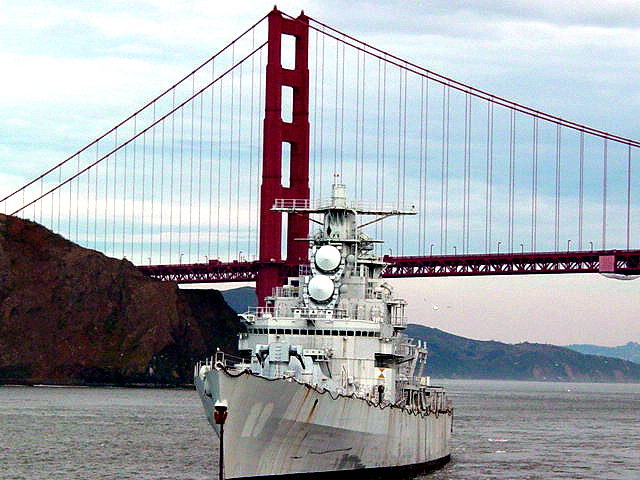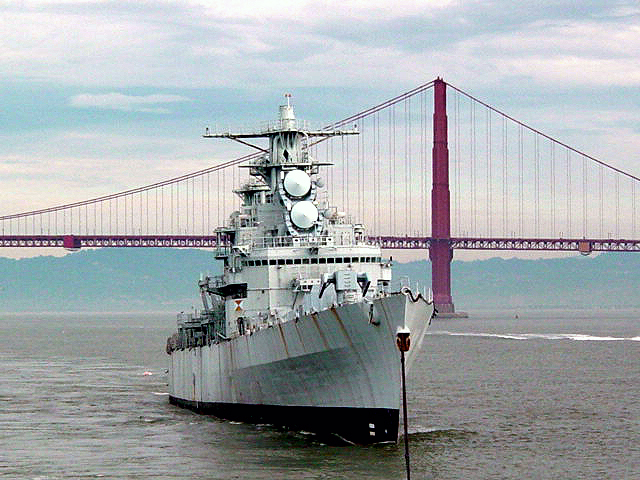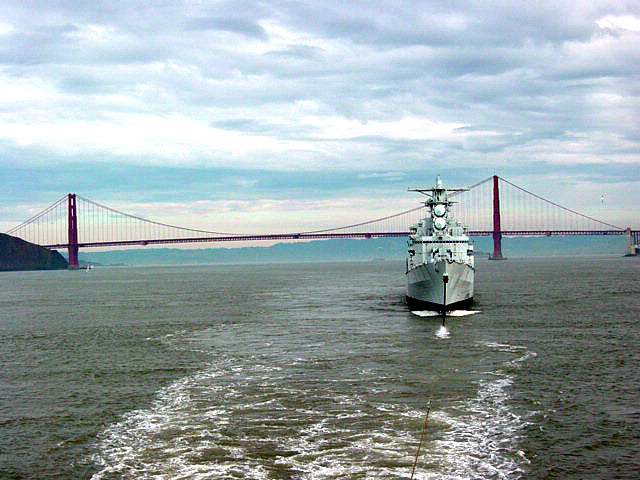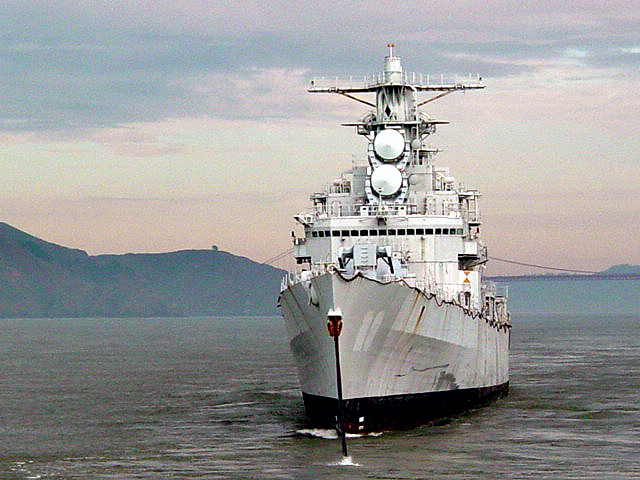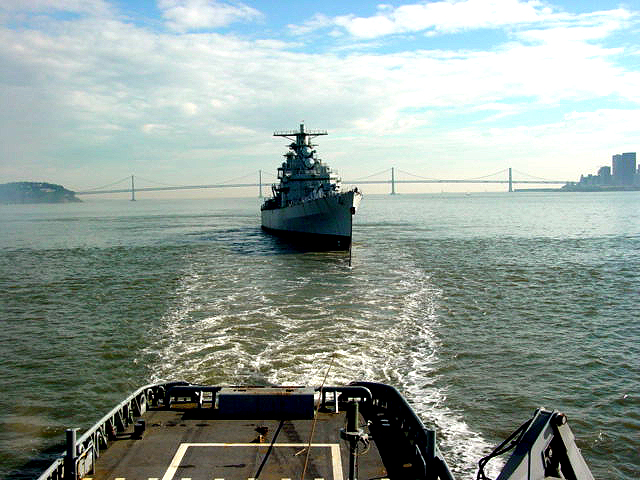 Created on 10/8/2007
This site was created by and is maintained by Tim Kane, former GMG2 on Jouett from 1976-1979
© USS Jouett (DLG-29/CG-29) Association 2000 - 2008 All Rights Reserved